Celebrate the Beauty & Craftsmanship of Old-World Gold & Silversmithing
Transform Your Vision Into Stunning Pieces With Our Training Programs.
JOIN THE VIP COMMUNITY!
RECEIVE EXCLUSIVE CONTENT & UPCOMING SPECIAL INVITATIONS FOR JEWELRY-MAKERS!
Join Kent Raible and learn the technical skills needed to create a ring that is a unique expression of you!
You'll receive in-depth video trainings, plus access to Kent directly during weekly live calls, and our private Facebook group.
It's an opportunity you won't want to miss!
THE WORK OF KENT RAIBLE.
Hi I'm Kent Raible, pictured here with my wife and partner, Lynn.
In my mid 20's I sold all my possessions and went to Europe on an extended biking trip, and somehow managed to stay for almost two years, while attending a jewelry program at a school in Germany.
It was there that I was introduced to different approaches than I would have seen in America, and I eventually developed a unique way of building jewelry pieces, using unconventional techniques. My work is unique because I do so many things differently!
My life's path is that of the goldsmith, a path of over 44 years now! To say I love my job would be an understatement! Because, in a world where few things endure, I am one of those who have chosen to celebrate that which defies the passage of time and the whims of fashion.
BEHIND THE SCENES ON KENT'S LATEST CREATIONS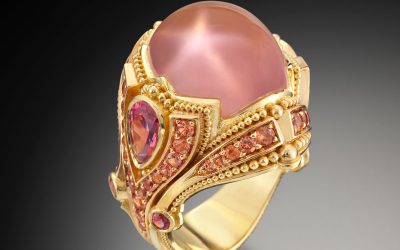 In this video series, we'll explore how Kent came to the concept of this unique ring. this star rose quartz from madagascar really grabbed my attention, it was such a different stone than I had worked with before, and had an awesome inner light, not to mention the...
read more
GET IN TOUCH
---
Have an inquiry about our programs or jewelry? Please complete the form and you can expect to hear back within 2 business days. We look forward to connecting with you!