GOING TUBULAR
What if you had the advanced technical skills needed
to let your imagination run wild, and truly create
the jewelry pieces of your dreams?
HEY THERE. I HEAR YOU.
​You're solid in your basic bench skills, you've put in the time. Now you're ready to advance your knowledge and open up your design potentials.
You've put in the hours and worked hard to be at this level and you've been searching for the right instruction to move you to the next level.
You want to work through a course with a master jeweller ready to answer your questions and progress you through technical challenges.
You had more confidence in your fabrication skills so that you could create more elaborate and elegant designs and evolve your work to the next level?

100%

100%

Your creativity was unleashed by advancing your ability to move your dream from an image in your mind to a finished masterpiece?

100%

100%

You could create beautiful and crisp bezel settings for gemstones of all shapes and sizes?

100%

100%

You could add some sweet articulated hinges and swivels giving your designs more dimension and movement?

100%

100%
Hi, I'm Kent Raible

In my mid 20's I sold all my possessions and went to Europe on an extended biking trip, and somehow managed to stay for almost two years. I attended a jewelry program at a German trade school, and it was there that I was introduced to different approaches than I would have seen in America. I eventually developed a unique way of building jewelry pieces, using unconventional torches and solder less joining techniques. My work is unique because I do so many things differently!
Now I want to share what I have learned with you. I am streamlining my knowledge so that I can offer you a direct route to up-level your skills in specific areas. Your palette of skills to draw from is about to get bigger! You will be able to dive deeper into the creative manipulation of metal and create more beautifully executed and complex designs. These videos, and the work we will do together, are designed to improve your technical prowess, and enhance your creative abilities.

Here's What we Will be Working On


 
Module 1: Tubing
Learn how to measure and create tubing blanks for round, square, marquise and pear-shaped tubing.
We will make 2 round tubes and a square tube for use in later modules on setting and hinges
Module 2: Basic KR Style Bezel Setting
Basic bezel forming (not using tubing)
We will seat and set both faceted and cabochon stones perfectly into a large round tube made in module 1
Learn how to hammer the metal over the stone safely and evenly
Bright cutting and graver prep
Module 3: Advanced Bezel Setting
Preparing corners for setting square, triangular, marquise and trillion shaped stones
We will set a square faceted stone into the square tube from module 1
Setting high-domed cabochons (ie bullets)
Module 4: Hinges
Basics of double tube hinge fabrication
We will make a hinged bale structure
Integration of hinges into your designs
GOING TUBULAR!
Tubes & Their Uses For Bezels & Hinges
Be the only students with access to the brilliant mind of Kent Raible!

Access to all 4 modules of in-depth video training + detailed PDF's  for 6 months!

Have access to the replays of our four Zoom group video calls where Kent answers questions and advances his teachings.

Private Facebook group to get inspired, interact with Kent and the group & share wins!

Receive priority placement in future online and on location courses when possible.

Plus, an extra bonus video for you on making swivels, to add rotational movement to your work! Tired of jump rings? Give your work a new twist with easy to make, perfectly centered swivels!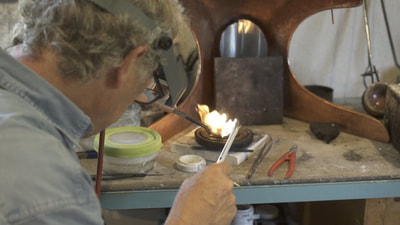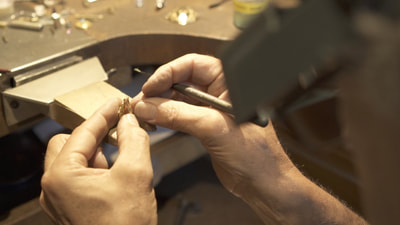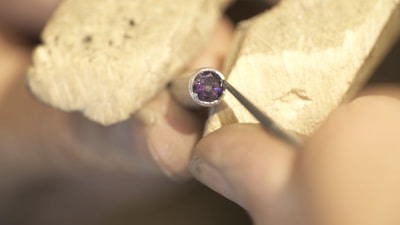 Here's what people who have studied with Kent and who've had Kent teach their students have to say…
Kent Raible is not just a modern master. Kent is not just the best granulation artist around. He is not just a fabulous goldsmith and jewelry designer. Kent is also one of the best teachers in the world. He learned at the feet of masters in Germany, as I did,  and then he developed his skills even further. Kent taught hundreds of students at the Revere Academy of Jewelry Arts. Kent knows his stuff, loves what he does and shares his passion eagerly. His methods are complete and easier than you might think. Take this opportunity! You will only regret it if you don't.
Kent is a master of granulation and a wonderful instructor- He also is the best fabricator I have ever known. I teach cloisonné workshops and I have brought Kent in to work with my students. He is very approachable, attentive and thorough, I would love to have him teach in my California classroom anytime!
Truthfully, Kent has inspired plenty of improvement in my work and helped to reignite the passion for making exceptional pieces. I am fusing rather than soldering more and more to build settings. The metalwork on my cloisonné pieces has grown dramatically and I will continue to learn from Kent whenever the opportunity arises. Studying with Kent online is an exciting prospect. I prefer my own tools and workspace, I prefer my own schedule and I prefer my own projects- Now I can have all of this and get Kent's help too!
Being around Kent is a gift.  By any measure, he is the most gifted teacher I have ever had the pleasure of being around.  He is a combination of teacher, savant, and genius whose ability to share his incredible knowledge is amazing.  For example, in class he may demonstrate something that seems difficult or impossible and you say to yourself "I can't do that" – but guess what – with a combination of his teaching skill and his patience, you find yourself achieving things you never thought possible.  I always feel grateful and inspired after any interaction with Kent – he is one of the greatest living goldsmiths – a true genius and a remarkable teacher. I can't wait to be a student in his new workshop!
I was THRILLED to be able to get into Kent Raible's 'Going Tubular' class.  I have admired his work for a long time and was eager to learn anything he was willing to teach!  I absolutely loved the format of the web-based course; access to on-line video modules along with a weekly live follow-up meeting for questions and answers. The modules were well organized, clear, easy to understand, and the step-by-step closeups of the work were very high quality. 
Being able to talk live with Kent via the Zoom app was easy to set up on my iPad, and he was so generous with his time and knowledge when answering all of our questions.  He is genuinely interested in our progress, our challenges and our successes. 
I was initially very intimidated in the class, but his desire and excitement to see us succeed put that to rest in the first Zoom session.  I give this class a 5 out of 5 star rating.  I am excited for the next set of students taking the class – it was fantastic for me.  I learned SO much.  You won't find a better instructor!
This is for you if you LOVE making jewelry and …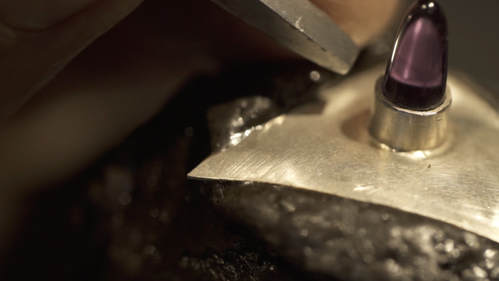 THIS COURSE IS FOR YOU IF …

* You're pretty solid in your basic bench skills (filing, soldering and basic stone setting), and you're serious about advancing your skill set.
* Your workshop is well equipped, and you are willing to purchase the additional tools needed if you don't already have them (See list below).
* You're ready to transform your jewelry from good to outstanding!
* You're ready for honest feedback and inspiration from Kent.
* You've been making jewelry for a while, but want to advance your skills to create custom, high-end pieces.
* You're committed to learning and practicing because you want results.
* You're excited about learning different (and possibly new!) methods you've never tried, to create pieces you've only dreamed of before.
THIS COURSE IS NOT FOR YOU IF …
* You're curious but not committed to results.
* You're not patient. Nothing takes the place of putting in the hours!
* Don't like to do really small, finicky stuff.
* You're a beginning jewelry student and don't yet have your basic bench skills in place.
* You do not have a place to work or don't have a well-equipped studio.
* You are unable to pull down a large tube through a draw plate by hand (This takes body weight and strength, and can be a real challenge for smaller folks), and don't have a draw bench or burly friend to help you pull it!
Let's Take A Look At What You'll Need
Once you purchase the course you will receive a detailed tools and required materials list. You will want to order your needed tools right away!
Workshop requirements
Invest in your future:
There is a good chance you will need to invest up to $500 or more for tools and materials to participate in this class fully. By looking over this list, you should be able to assess what your tooling up expense may be. We are please to announce that we are again partnering with Otto Frei to cover your tool needs for this course, and they will be giving you a nice student discout too!
You will need a sturdy, bench-mounted vise to hold draw plates. My bench is bolted to the floor – pulling a large, thick-walled tube takes strength and requires that the vise be immovable. Otherwise you may be pulling your bench around your shop! A vise on a wall mounted bench should be OK, as long as it is securely attached to the wall.
Alternatively you could purchase a draw bench like this one from Otto Frei, or build your own pretty enexpensively, like this.
We assume that you have, and you will need: a good selection of files, saw, digital calipers, a torch for silver soldering, and a flexshaft/micromotor, and most basic goldsmithing tools. 
​Materials:
A complete and detailed list of materials needed will come with your welcome email, once you've purchased the program. For now, this will give you the general idea of what's needed.

Metals
You will need to invest in at least 2oz of silver, sheet mostly, and a small amount of wire.  This would weigh more in gold or platinum.
Stones:
We will be doing a lot of bezel setting – I suggest practicing with CZ's or synthetic sapphires, or other inexpensive stones you can afford to damage as you practice your skills. I recommend you have on hand:
6mm rounds, both faceted and cab, 2-3 of each
5mm princess or step cut square stones, 3-4
2 or 3 high dome cabs, preferably a round bullet, but any steep walled stone will do, about 6mm
Other cabs for bezel forming practice, various shapes, 3-4
*Required tool list:
We assume that you have, and you will need: a good selection of files, saw, digital calipers, pliers, a torch for silver soldering and a flexshaft/micromotor, and most basic goldsmithing tools.
In addition, to basic jewelry tools, you will need the following:
Bending block and cylinders. This one is recommended from Otto Frei.

Round Draw plates for making tubing.

For most tubing/hinge/wire needs, you will need consecutive round holes from 9mm down to .5mm, this can be done with three or four plates, or you can fill in between plates you already have.
Hammer Hand piece:
If you have done a lot of setting, you will have one, if not, you may substitute with a setting punch and chasing hammer (see below), and use setter's pitch to hold your work while setting (You will need both hands to set this way, with a hammer handpiece, one hand is freed up to hold the work and stone in place, often eliminating the need for pitch.)
I use a flexy Badeco with my Foredom, but you may need a different brand, depending on the rotary machine you are using.
Compacting/setting Punches:
A setting punch with a rectangular polished end for setting with pitch. You will be given exact dimentions for fashioning your own.
A compacting punch will be needed for module 3, and is available from Otto Frei.
Setter's pitch or other moldable holding material.

GRAVERS:
Flat graver # 38 or 39, and a knife edge graver, with sharpening stones and 4/0 polishing paper. These are available from any jewelry supply
Joint Vise/Miter Cutter, such as this one. 

A square for measuring 90 degree angles

A selection of new stone-setting/seating burs.
*If the tools you order don't arrive by the start of class, don't worry! You can still get started, ask questions and participate in the group.
FREQUENTLY ASKED QUESTIONS
How much time will I need to complete the work in each module?
​
Depends a lot on your skill level, but practicing for 5 hours a week would be more than sufficient to get basic understanding of the content. Stone setting takes persistent practice, so the more consistent time you put in, the faster you will master it. The tubes we will make are long enough to practice with for some time!
Is the content dripped, or do I get instant access?
To build a strong foundation, we will be keeping our focus on one module at a time and working together!
Here is our schedule:
Official course start date: October 28th, 2019
Module One, Tubing: October 28th
Module Two, Basic Kent Raible Style Bezel Setting: November 4th
Module Three, Advanced Bezel Setting: November 11th
Module Four, Hinges: November 18th
Bonus Swivels video tutorial will be released with Module four on November 18th
How do I get my questions answered?
In our private Facebook group, you will be able to ask Kent your questions, and post questions to the group. You can tag Lynn Raible for general questions, and tag our administrative assistant for technical questions.
What happens during the Zoom conference calls?
​
This is where Kent will meet up with the group live once a week for approximately one hour.  He will elaborate on the content of that week's module, answer questions, and add additional tips, etc.
How do I access the Zoom calls live?
​
All you need to gain access is a computer or smartphone, and reception, of course. Details will be given once you're in the course.
What if I can't make it to a Zoom Call?
​
No worries! Each week we will provide a post "Ask Kent About This Module", a few days prior to the call for each module. You can post your questions there and Kent will be sure to answer them during the live calls.  We plan to have the replays available within 24 hours of each call, and you can Access the replays through our membership site anytime and as often as you like for at least 6 months.
Do I have to participate in the Private Facebook Group?
​
No, that is up to you! However, we are a community, and we ALL have something to add and something to learn from each other! You will be able to ask Kent questions, the group questions, share your progress, and more!
What if the tools I've ordered don't arrive before the first day of class?
​If the tools you order don't arrive by the start of class, don't worry! You can still get started, ask questions and participate in the group. It would however serve you best to have your tools and workshop set up ready to go. We have purposely given you plenty of time before the course starts so that you can get your self set up the best you can!

What if I find out the program isn't right for me?
​To request a refund, and give up all access to the program and its content, you must email us at info@goldenspherestudios.com no later than midnight PDT on 11/3/19, using 'REFUND' in the subject line.