'Mastering the Spiral Loop Chain'
'The Shepherd's Hook Clasp' 
Only $146 
BE MENTORED BY KENT RAIBLE FOR 3 MONTHS!
What if you had the opportunity to learn the  tips and tricks needed to create masterful, professional and stunning  knit/crocheted/woven chains?
What if you had the opportunity to be mentored by Kent Raible, who has used this technique to create truly original works for over thirty years?
**DOORS NOW OPEN **
Mastering the Spiral Loop Chain is Kent Raible's mentored online program designed to show you how to:
Set up a looping station and build a foundation for making professional level 'Spiral Loop Chains'.

Use the tips and tricks Kent has created, in the over thirty years of making this style chain, to fast track your learning.

Make chains of differing diameters, wire thicknesses, and loop sizes to create something uniquely yours!

Create not only round chains to showcase your pendants, but also flattened chains for neck collars, bracelets, and more!

BONUS COURSE

~ THE SHEPHERD'S HOOK CLASP' Course  is where you will learn to fabricate a simple and elegant hook and eye style clasp so you will have a completed and wearable chain when you're finished! **Advanced-beginner fabrication level needed to make this clasp**  
Tubes and their uses in bezels and hinges
 ***DOORS CLOSE NOVEMBER 14TH 2020***
Get started for $349.99
This mentored online program is designed to show you how to:
Measure and create tubing blanks for round, square, marquise and pear-shaped tubing.

Create beautiful and crisp bezel settings for gemstones of all shapes and sizes.

Use advanced bezel setting tricks so you'll know how to prepare corners for setting square, triangular, marquise and trillion shaped stones.

Fabricate a

double tube hinge, and how to integrate it into your designs.

Add articulated hinges and swivels giving your designs more dimension and movement.

Create beautiful opening bales!

**DOORS CLOSE NOVEMBER 14TH 2020**
Get started for as little as $493.00
Have you ever gazed at a ring, and wondered how they put all those little pieces together to create one seamless masterpiece?
Learn the technical skills needed to create a ring that is a unique expression of you!


I'll take you behind the scenes in my workshop where I'll show you my sketchbook and guide you through the design of more complex rings, from concept to planning out the fabrication.

I'll demystify some of my most complex pieces by explaining the fabrication and forming steps involved in their creation, to show you how it's

actually

done!

I will encourage you to work on your own, more complex designs as we go, suitable to your skill level.

You do not need to know how to set stones to take this class (bezel making and setting is taught in Going Tubular'. You can purchase bezels to work with.
CREATE THE JEWELS OF YOUR DREAMS!
Study online with one of the most celebrated hands-on goldsmiths of our time, Kent Raible.
The 'Going Tubular' and 'Architecture of a Ring' classes are designed for experienced metalsmiths (intermediate to advanced) who want to improve their skills and be more inspired in their designs. These mentored online programs are designed to reduce your learning curve and help you transform that vision in your head into a masterpiece you can touch.
If you can file, saw and solder with proficiency, these classes will take your work to the next level!
If you are already a professional metalsmith, you will be able to dive into the more complex aspects of these lessons. Many of our students repeat our courses. The first time around they work on perfecting a set of skills, the second time, they work to incorporate these skills into their own work, with Kent there to help them along.
Our new class 'Mastering the Spiral Loop Chain' does not require an advanced skill level, basic jewelry making skills are all you need to get started!
We hope you will join us today!
Our mentored online programs are designed to:
Give you more confidence in your fabrication skills so that you can create more elaborate and elegant designs that evolve your work to the next level.

Unleash your creativity by advancing your ability to move your dream from an image in your mind to a finished masterpiece.

Support your progress

through our live group Zoom conference calls and our private Facebook groups, so that you can  master the skills in each module.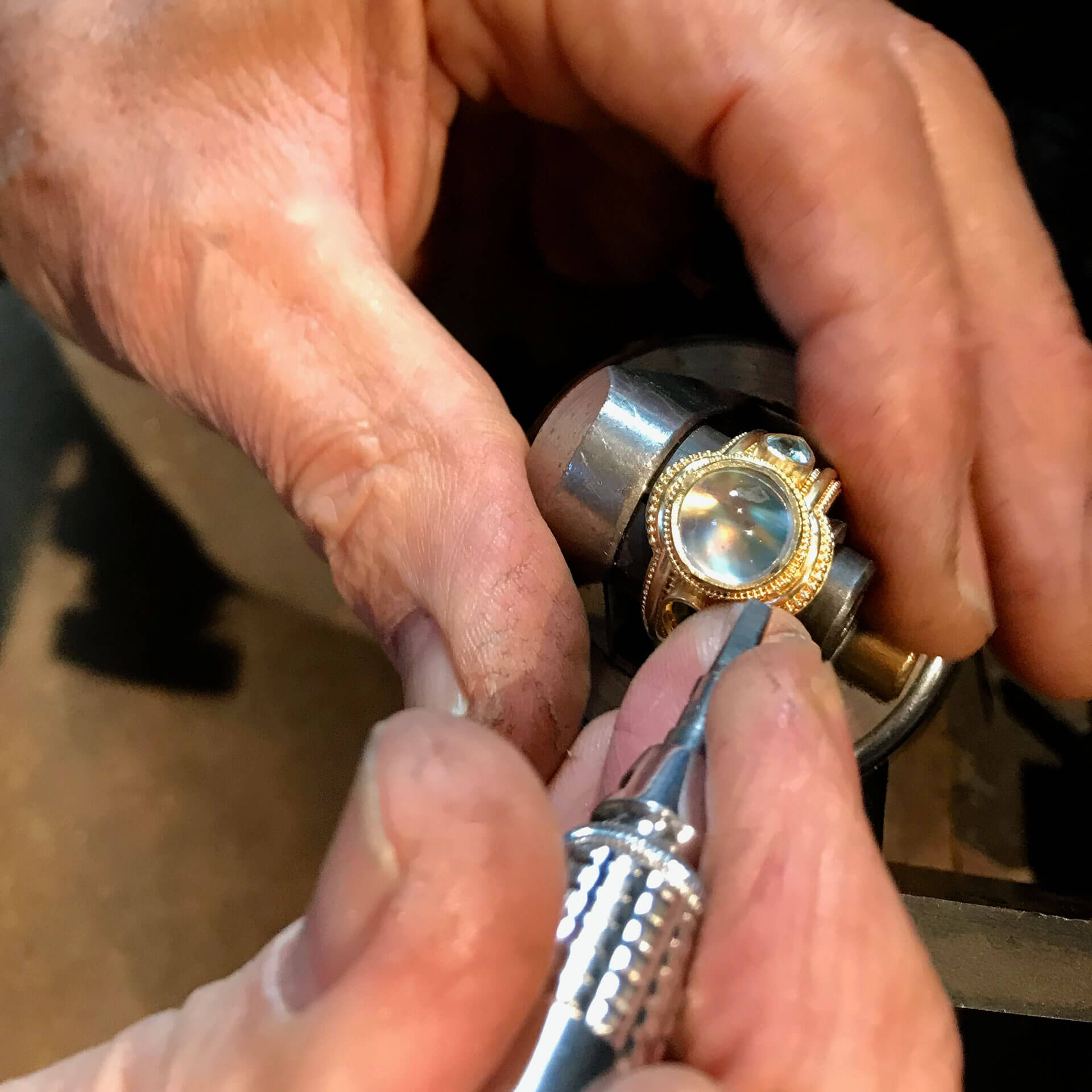 Dear jewelry students and fellow virus avoiders,
We are all doing our part and staying at home. If you are ready, we are ready to help you improve your fabrication skills through our online mentored courses. Use this time to take your work to the next level!
We have opened these courses with a new format!
Now you have access to Kent and the Private Facebook group for 3 months from date of purchase!

Now you have immediate access to all modules! No more dripped content, no more feeling behind! Spend as much time as you want on each skill, with Kent there to guide you!



'Going Tubular' and 'Architecture of a Ring' students now have access to guest speakers, special projects/challenges, and a monthly membership once the full course is completed!