Part one of three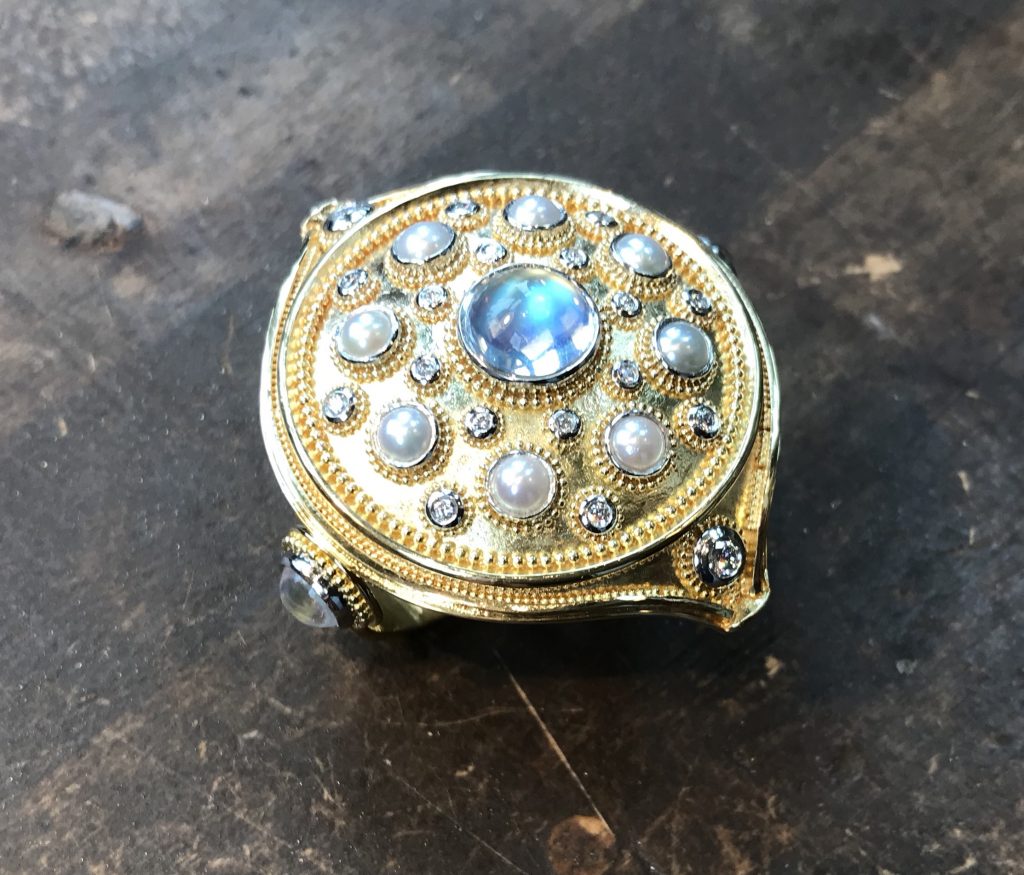 Created for the 2019 American Jewelry Design Council's Theme project 'Polka Dots'
18 Karat Gold, 900 Platinum, Moonstones, Pearls, and Diamonds
This was one of those deadline projects, one that I avoided until the last minute. I was extremely busy setting up my new workshop for my classes this summer, and filming a new online class. After a few false starts, I lit upon the perfect project!
A dotty idea…..
…… that kept popping into my head was to cut seed pearls in half and set them as I would a cabochon. So, I grabbed a 4mm seed pearl and sliced it into two halves. I really liked the way they looked, so I started my search for the perfect center stone.
I decided on a gorgeous, 9mm round rainbow moonstone and started arranging the pearls and other round, dotty stones in patterns surrounding it, until I found what I liked.
Platinum bezels, I decided, would make the piece brighter and "gemmier". These stones would all be arranged within a mega-dot, or large, circular form.
In true Kent Raible style, every setting would be encircled with mini-dots, little gold granules. Very dotty indeed! What came next surprised me……
A DOUBLE RING ?!
For some inexplicable reason, I decided to make a two finger ring/hand ornament out of my big dot. I didn't sketch it, I didn't really plan it out.
Sometimes I like to approach a project in this way, as I love surprises, and I love the freedom to change and move as I go. I was certain of a few things when I started…. I knew there would be a big dot, a circular dome for the top, and that the bezels would be arranged over that. There would also be two cylinders for the fingers, joined together, and they would somehow support the dotty dome.
I rolled out two large gold sheets, one for the dome, and one for the two ring cylinders, and I was off! Finally rolling along, I formed the dome, and fused the cylinders together, then started fitting them all together. Next I added a thick gold border ring to finish out the big dot.
Want to see what Kent does next? Click here to go to part two!
Would you like to learn advanced metalsmithing techniques from master goldsmith Kent Raible? Check out our online and in-person workshop selections.