SELF-GUIDED COURSES
Now you can work at your own pace with our self-guided courses!
Study online with one of the most celebrated hands-on goldsmiths of our time, Kent Raible.
The 'Going Tubular' and 'Architecture of a Ring' courses are designed for experienced metalsmiths (intermediate to advanced) who want to improve their skills and be more inspired in their designs. 
The 'Mastering the Spiral Loop Chain' course will have you creating gorgeous handwoven/crocheted chains in no time, and with minimal shop setup! 
I've designed these self-guided courses to reduce your learning curve and help you transform that vision in your head into a masterpiece you can touch. ~ Kent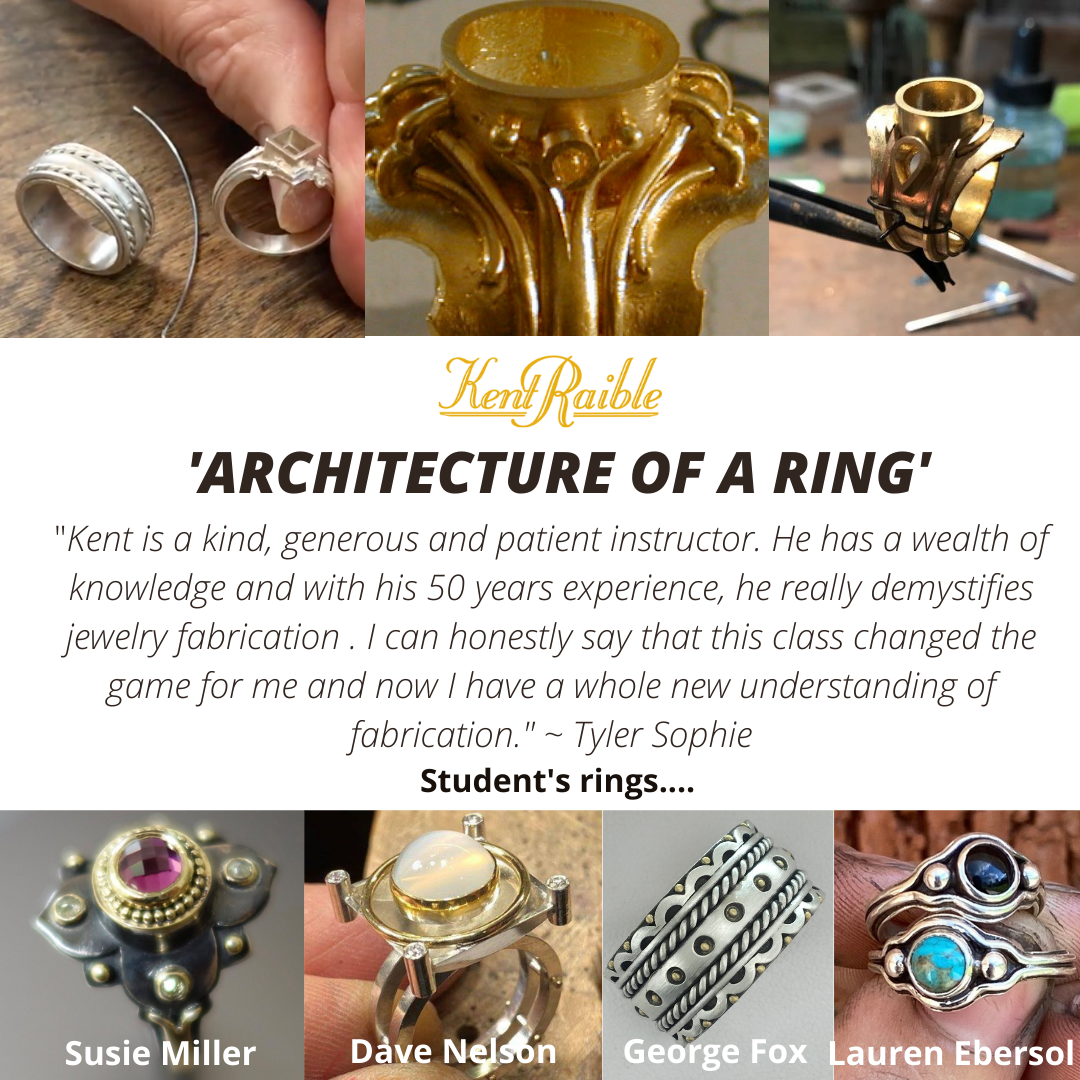 ARCHITECTURE OF A RING
Have you ever gazed at a handmade ring, and wondered how they put all those little pieces together to create one seamless masterpiece? 
In this class I show you a different way of making rings starting with a tubular inner ring blank, and show you the skills you need to put together beautiful and complex designs.  
In Architecture of a Ring, I teach you :
How to file, bend or otherwise fit different elements to form a ring.

I'll take you behind the scenes in my workshop where I'll show you my sketchbook and guide you through the design of more complex rings, from concept to planning out the fabrication.

I'll demystify some of my most complex pieces by explaining the fabrication and forming steps involved in their creation, to show you how it's

actually

done!

I will encourage you to work on your own, creating more complex designs as you go, suitable to your skill level.

You do not need to know how to set stones to take this class (bezel making and setting is taught in Going Tubular). You can purchase bezels to work with.
GOING TUBULAR
The ability to make your own tubing frees up your creative genius- giving you options you can't get with commercially available tubing.
I use tubing to make multiple bezels for calibrated stones, for articulated elements and hinges, and I'm always coming up with new uses for different shapes of tubing! 
In this class, you will learn how to
Measure and create tubing blanks for round, square and pear shaped tubing

Create beautiful and crisp bezel settings for gemstones of all shapes and sizes.

Use advanced bezel setting tricks so you'll know how to prepare seats for setting square and other sharp cornered stones.

Fabricate a double tube hinge, and integrate it into your designs.

Add articulated hinges and swivels giving your designs more dimension and movement.

Create beautiful opening bails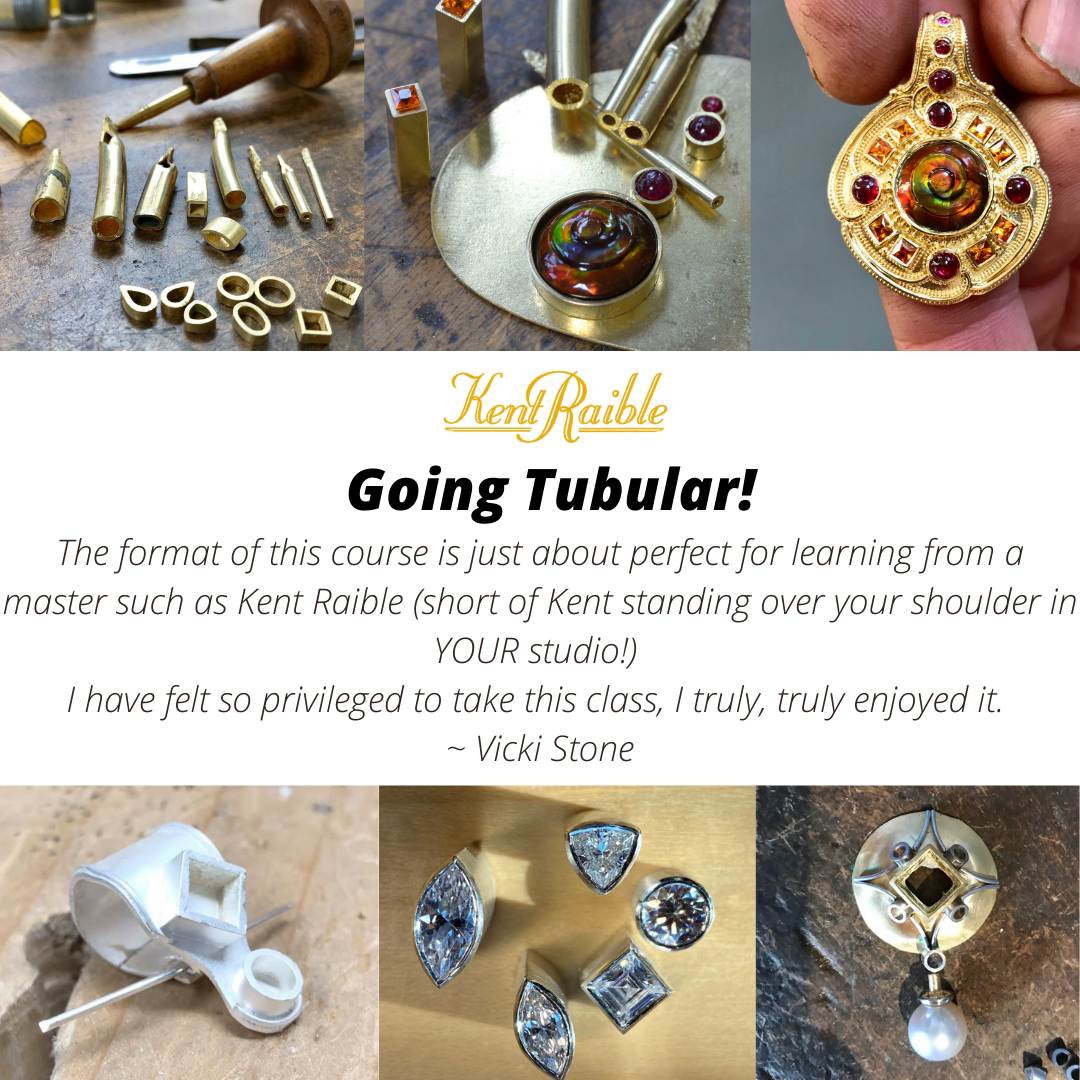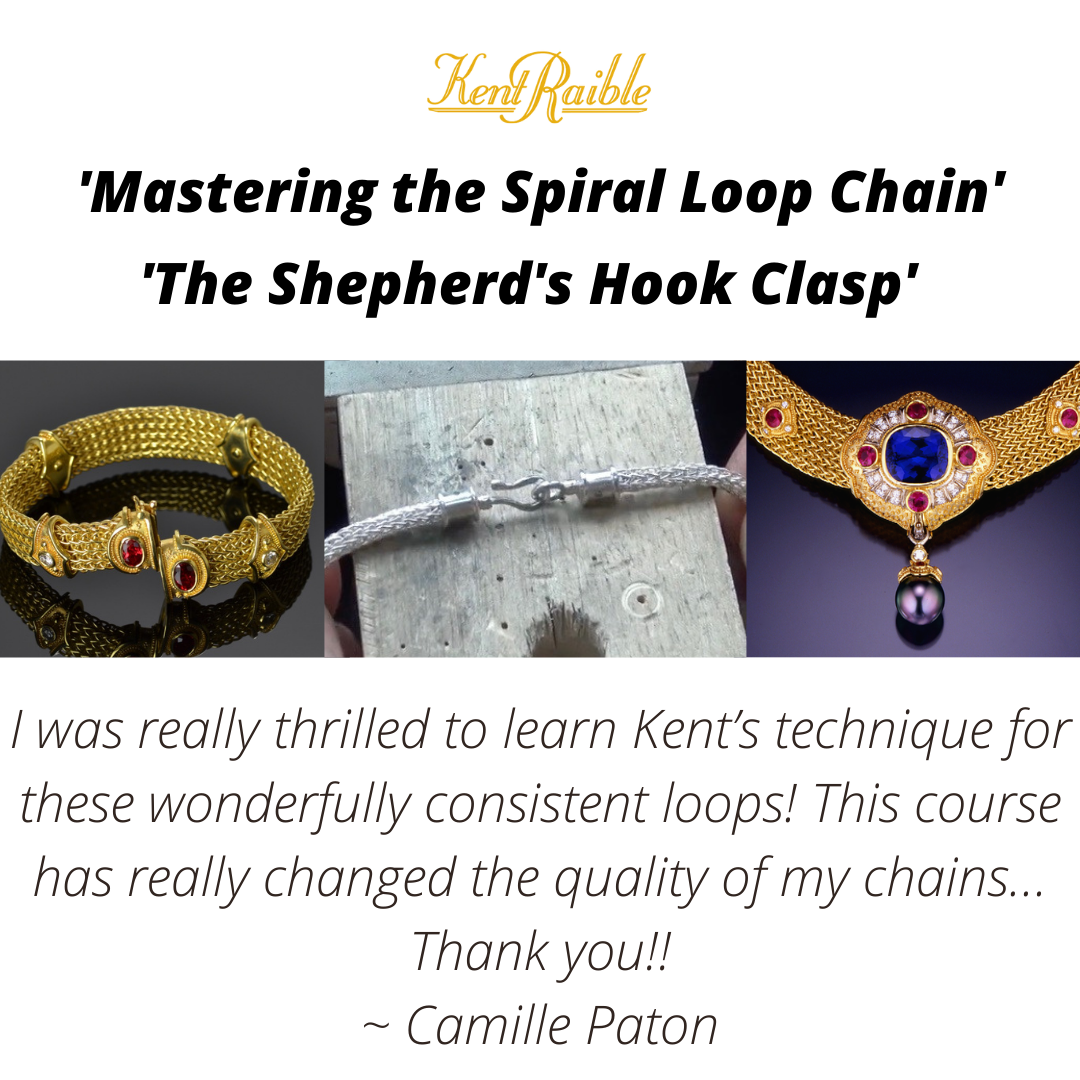 MASTERING THE SPIRAL LOOP CHAIN
PLUS THE SHEPHERD'S HOOK CLASP
What if you had the opportunity to learn the  tips and tricks needed to create masterful, professional and stunning crocheted/woven chains?
The spiral Loop Chain,(also known as crocheted or Viking knit) is one of the fastest and most beautiful handmade chains you can make, with many different size and shape options to choose from.
Kent Raible has used this technique to create truly original works for over thirty years! You can even find his chains in museum collections, including the Smithsonian!
Mastering the Spiral Loop Chain is Kent Raible's self-guided course designed to show you how to:
Set up a looping station and build a foundation for making professional level 'Spiral Loop Chains'.

Use the tips and tricks Kent has created, in the over thirty years of making this style chain, to fast track your learning.

Make chains of differing diameters, wire thicknesses, and loop sizes to create something uniquely yours!

Create not only round chains to showcase your pendants, but also flattened chains for neck collars, bracelets, and more!

BONUS COURSE ~ THE SHEPHERD'S HOOK CLASP'  Here you will learn to fabricate a simple and elegant hook and eye style clasp so you will have a completed and wearable chain when you're finished! **Advanced-beginner fabrication level needed to make this clasp**
Unveil Your Mastery
January through April, 2023
Be mentored personally by Kent Raible and get the most out of our landmark courses 'Going Tubular' and 'Architecture of a Ring'! Work with a great group of new and returning students! From advanced beginners to seasoned professionals, you will gain tremendously from this program. This program only runs once a year!