WELCOME TO AN INTIMATE VIEWING OF SIX AMAZING PIECES FROM KENT'S "HIT PARADE", SPANNING A PERIOD OF 20 YEARS.
Sometimes I can sit on a great gemstone for years before I finally figure out what to do with it. This tourmaline, cut by the awesome facetter, Stephen Avery, was sitting in my collection for at least 7 years, and even though I tried repeatedly to sketch a pendant for it, I was never satisfied – until the day the idea came to me to extend the stone's sparkle and curved, elongated top through to a tapered bail. The rest flowed from there – the 20K and ruby tentacles, the diamond shaped pattern tapering down the bale – and what emerged seemed to be a cross between a lobster and a nautilus, a kind of sea creature that reminded me of the work by John Paul Miller, one of my first jewelry heroes.
I named it From the Deep, because it seemed to emerge from the depths of my own creativity, and it did look something like what you might find swimming around in a coral reef!
Once the pendant was done, I had to create the perfect chain and clasp for it. I came up with the egg-case shaped clasp idea, with a very cool, invisible, saddle slide catch, studded with rubies, garnets and diamonds. A very delicate, 10 loop viking chain completed the ensemble. This is one of my all-time favorites!
Pendant with Hand-Woven Chain and Clasp, 2014.
18K yellow and 20K pink golds, 900 platinum, indicolite tourmaline, grossular, demantoid and tzavorite garnets, rubies, diamonds.
Winner, Best in Jewelry, 2015 Saul Bell Awards.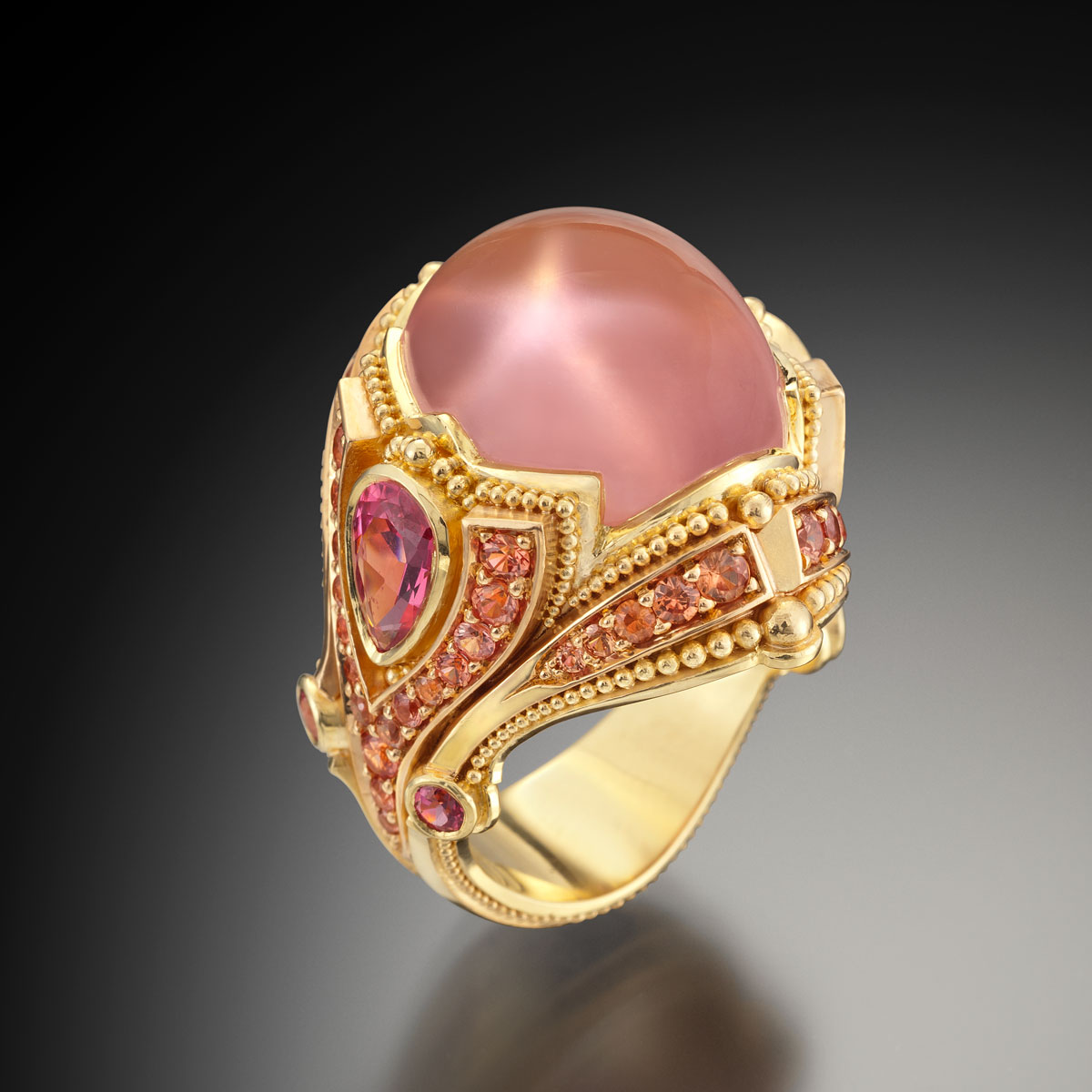 Ring, 2017.
18K Yellow and 20K Pink Golds, Madagascar Star Rose Quartz, Pink Spinels, Umba River Sapphires.
Available at GoldenSphereStudios
I found this beautiful star rose quartz at the Tucson Gem Show, and made this ring soon after. The subtle light and star within the stone, and the salmonish pink color really attracted me, so I designed the ring with accent stones that all played within that color scheme – dark, salmon pink spinels, and the burnt orange-pink of Umba River sapphires.
I sketched several versions of the ring before deciding on the wishbone shapes that hold the pear-shaped spinels on either side. This design also featured my favorite part of the ring – the scalloped edges that set the large cabochon, covering as little of the stone as possible while holding it firmly in place.
Customers often want you to set their own stones, and this was an unique challenge – taking a broken string of ruby beads and remaking them into something completely different!
I made a hidden framework held together with stations that would hold the gold wires on which the beads would be strung. The frame was soldered to a granulated centerpiece, and a hand-woven chain was riveted to the ends of the frame, for a comfortable fit in the back. To top it off, a box clasp, activated by pressing down on one of the largest of the ruby beads, makes the piece easy to wear.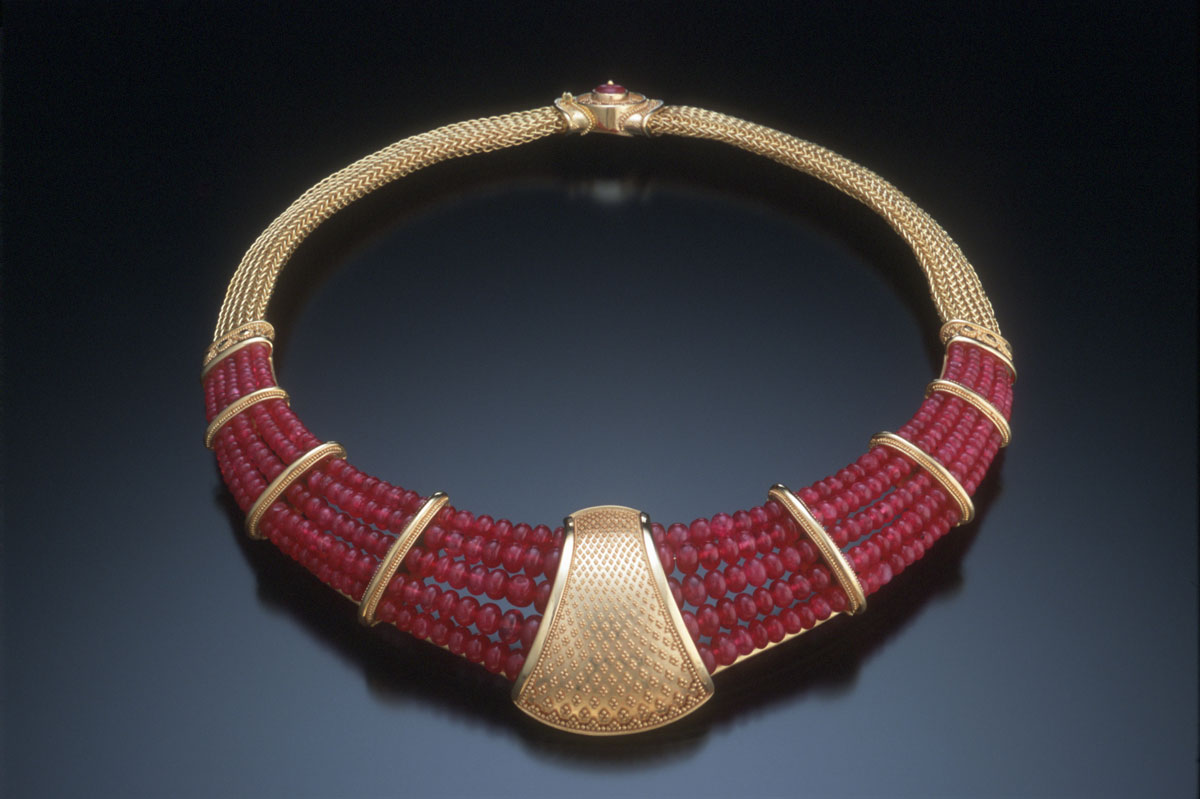 Necklace Commission, 1998.
18K Yellow Gold, Ruby Beads, Hand Woven Chain.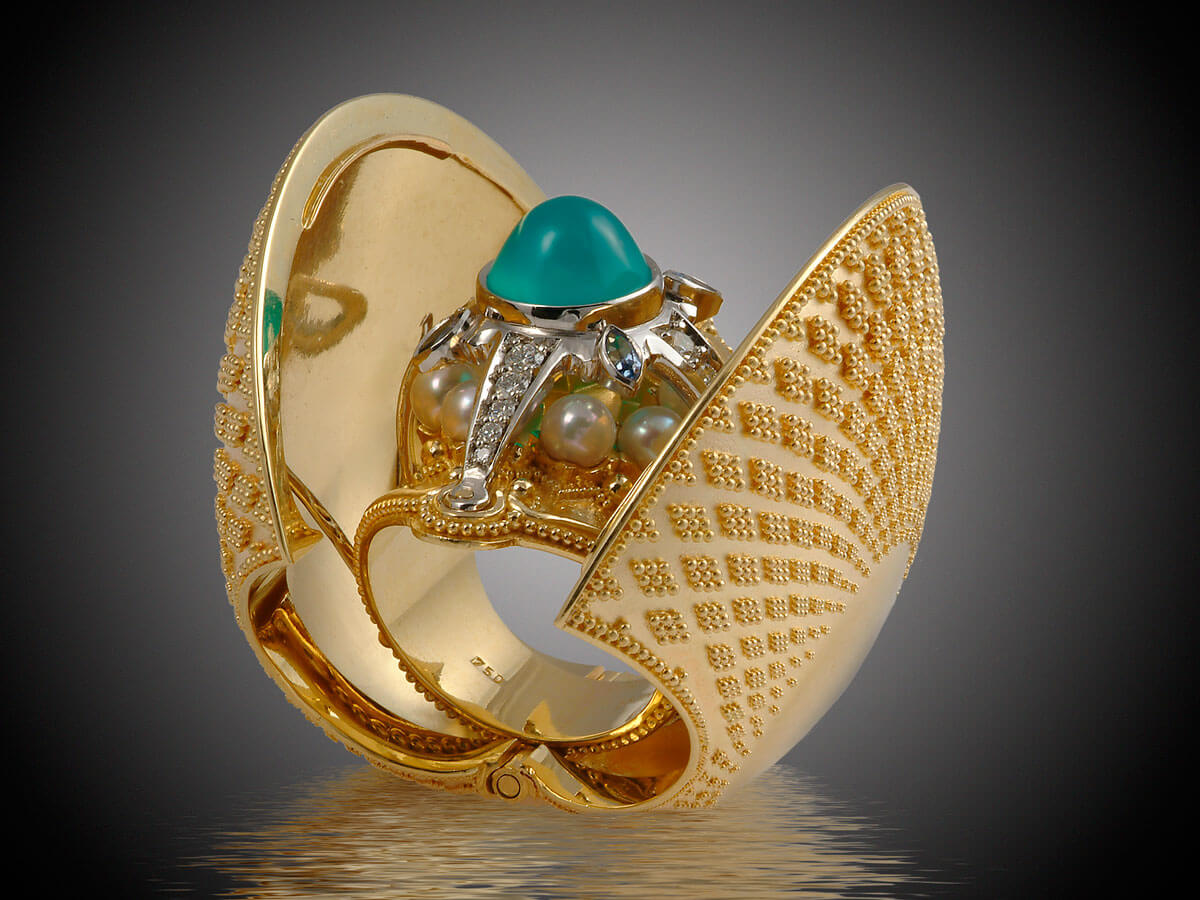 Ring-Within-a-Ring, 2004.
18K Yellow Gold, 900 Platinum, Chrysacolla, Diamonds, Pearls, Sapphires.
Theme Project "Secret Treasure" – American Jewelry Design Council.
The American Jewelry Design Council (AJDC) is a group of some of the most successful and innovative jewelry designers and educators in the US, and I am very honored to be among them. Every year, the group chooses a theme, and the membership makes a piece based on that theme. Cosmic Clam was my interpretation of the theme "Secret Treasure".
I was making a hinged "poison" ring, and was about 5 hours into the project when an idea popped up and hit me hard! I remembered digging clams with my father and sister as a child, and saw the zigzag patterns on the shell of the cockles we dug. I thought of pearls and how they are hidden within an otherwise ugly oyster. That's when the idea of a ring within a ring emerged – So I put down my project, and started planning out a new, way better and exciting design, featuring a removable ring inside a clamshell, which is also a ring!
I carved the clam out of wax, cut it in half, hollowed it out, cast it, and added the hinge and purse clasp, as well as the inner cylinder, then granulated it. Then I made the ring to fit inside. Technically, it was very tricky to pull off, but I always love a challenge, especially when it's for something really gorgeous and unique. One of my top 10, for sure.
This piece is a spinoff of my original Floating City made in 1992, which was purchased in 1996 for the permanent collection of the Renwick Gallery of the National Museum of Art at the Smithsonian. The original was much grander in scale, so I wanted to make smaller versions that would be more accessible and easily worn. This is one of the finest of the 6 smaller cities that I have created, and I'm planning on doing more of them in the future.
The inspiration for these otherworldly cities comes from a deep feeling that I/we are not alone, that this earthly existence is not all there is, and that there must be other planes of existence that are hopefully better than this one! A spiritual dwelling, if you will. There, the rules of physics, time and space, as we are accustomed to here, do not always apply. So, half the city is upside down, half upright, and in the center is a horizon line of light (the platinum/diamond section). The city floats in space, a world unto itself. Welcome!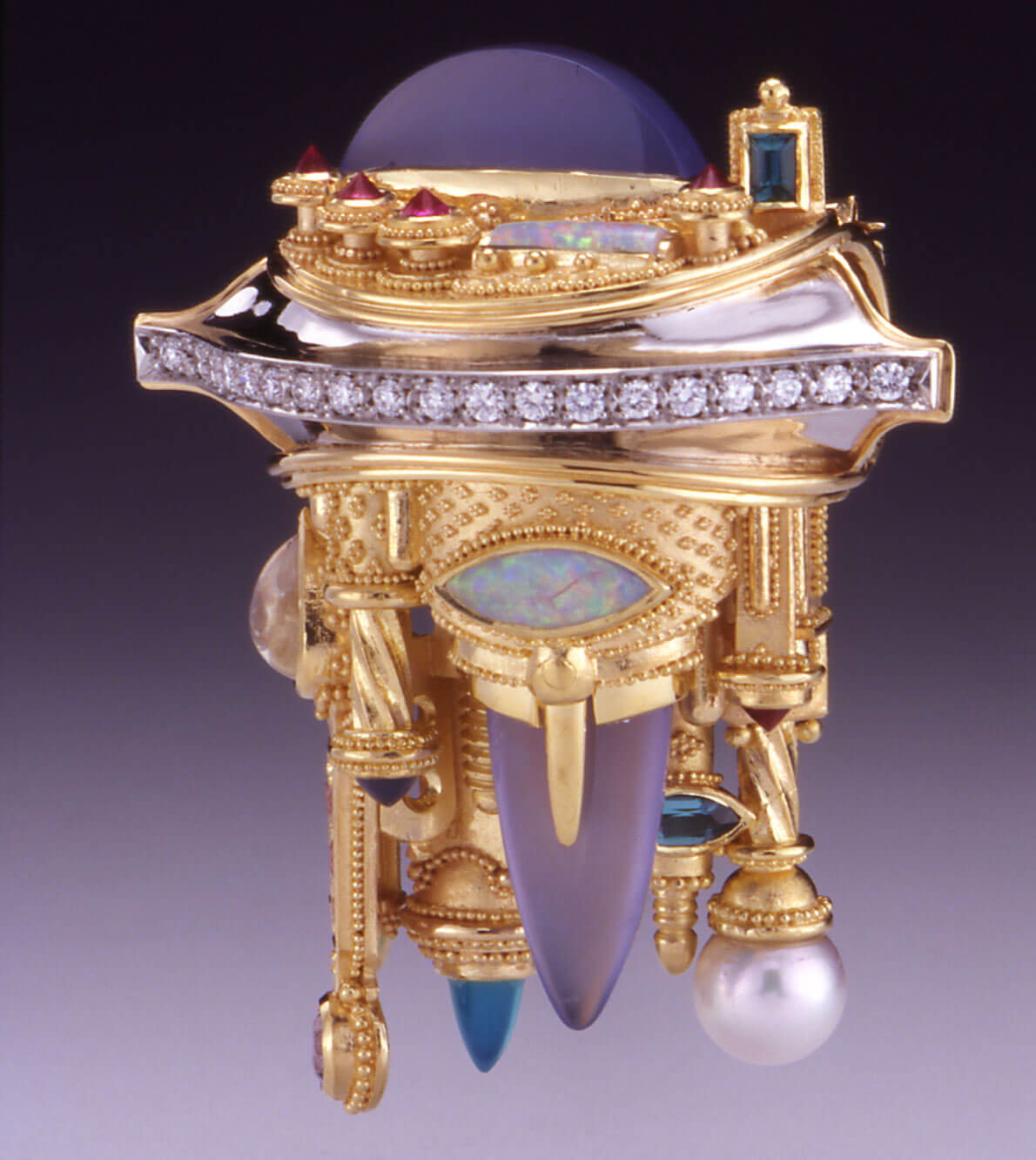 Brooch/Pendant, 1999.
18K Yellow Gold, 900 Platinum, Chalcedonies, Opals, Spinels, Tourmalines, Chrysacolla, Pearl, Moonstone, Sapphires, Diamonds.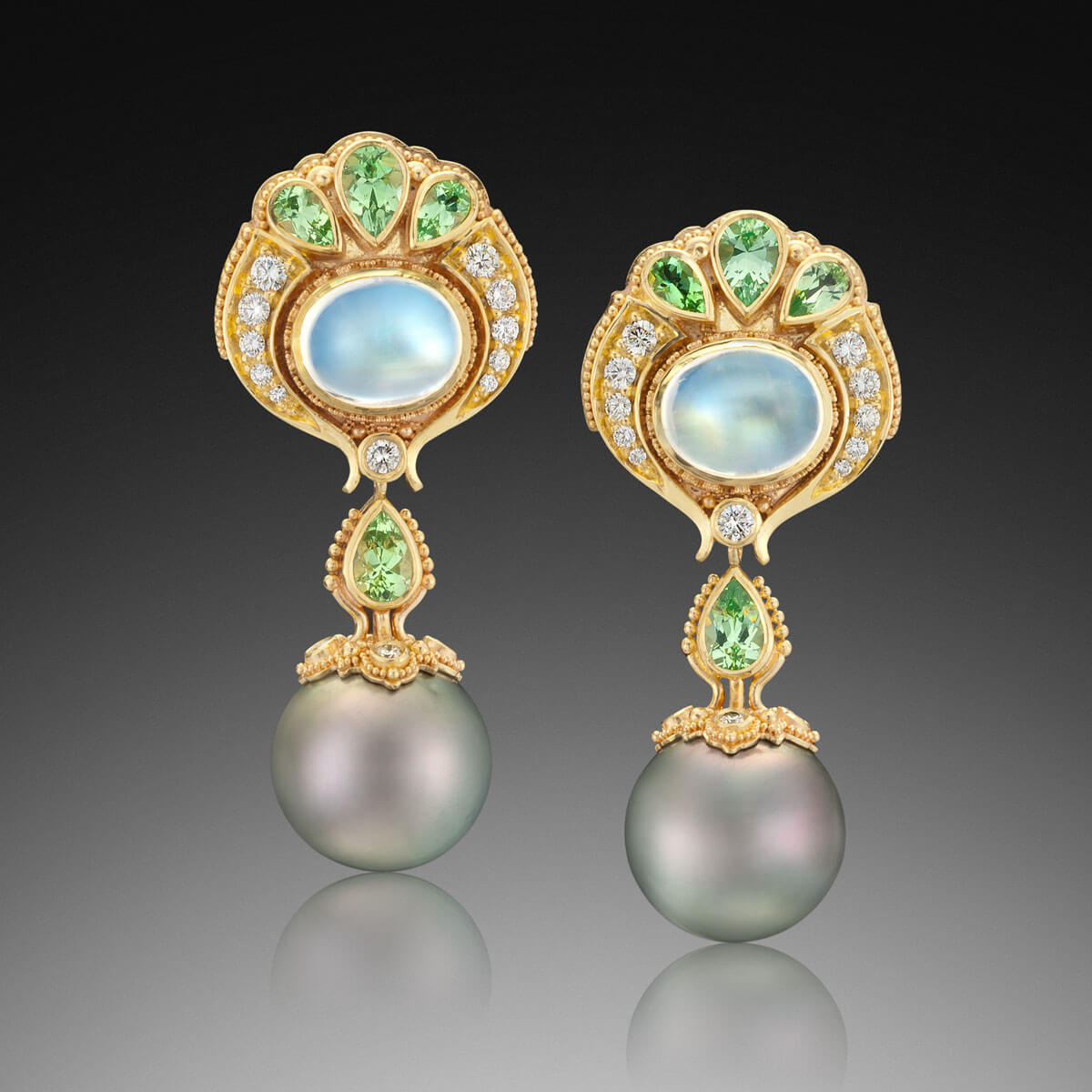 Commissioned Earrings, 2016.
18K Yellow Gold,  Rainbow Moonstones, Grossular Garnets, Diamonds, Black Pearls.
MOONSTONE AND BLACK PEARL EARRINGS
These were made for a wonderful client, who had the pearls, and has a love for rainbow moonstones. The combination of the soft-hued, high dome cab moonstones and the black pearls really appealed to me. The greenish overtones of the moonstones and also the black pearls suggested the addition of the mint grossular garnets as accents.
The design came to me almost instantaneously: as soon as I layed out the stones together into the arrangement you see here, the design was on paper within 5 minutes, and somehow the proportions were all perfect. I love it when that happens!